The all new Ocho Loco 24/7 Glide on Eye pencil set by Urban Decay!
Its like a box of crayons for adults!
Now Introducing the all new Ocho Loco, a rainbow collections of 8 full sized 24/7 Glide on eye pencils by Urban Decay. This set of 8 includes FOUR all new and Exclusive bright and shimmer pencils, and some of the all time best selling, amazing shades. Nevertheless the this package includes the Grind house Double Barrel Sharpener, for the Ocho Loco ultimate 24/7 set!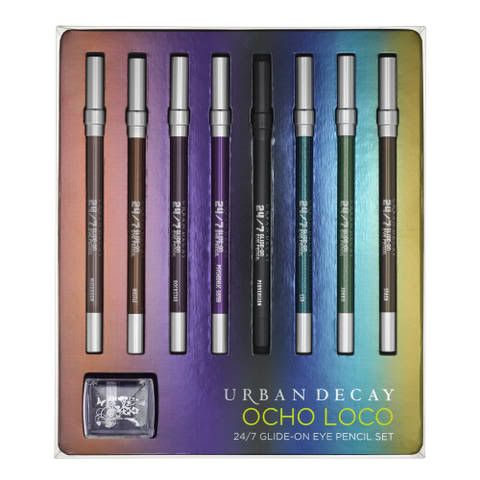 The all known Urban decays 24/7 Glide on pencil is famous for all beauty blogger and youtuber gurus, wanting more colors and shades. Ocho Loco is a Technicolor dream with new shades like
LSD
, a navy with bright Turquoise shimmer
Psychedelic sister
, a bright Purple shimmer more like eggplant
Mushroom
aka long-awaited, a taupe/pewter metallic, which is inspired by our best selling new eyeshadow.
Hustle
- Medium metallic brown
Rockstar
-dark purple metallic
Perversion
- blackest black matte
Junkie-
dark teal pearl with golden shimmer
Stash
- deep green with gold shimmer
Urban Decay almost never creates a set with full-size pencil, so Ocho Loco is a true collectors' item for the eye pencil connoisseur. The Craziest thing might be the price: $59 for eight full-sized pencils - that value of $152!

This new collection is housed in a sleek, multi-colored tray, more like a box of multi colored candy, like crayons, its make a great impression on gift.

wondering what "Ocho Loco" means it means Crazy Eight in Spanish, appropriate for this OMG worthy selection of 24/7 shades. One of Urban Decays all time Highly-saturated and waterproof 24/7 glide on eye pencil go on Creamy smooth and sets for long lasting results.



The Ocho Loco 24/7 Glide-on Eye Pencil set values at $59 and are available for purchase ONLINE ONLY at
www.sephora.com
www.ulta.com
www.macys.com
www.beauty.com
urbandecay.com